Young adults learn prayer and its obstacle, distraction – Catholic Philly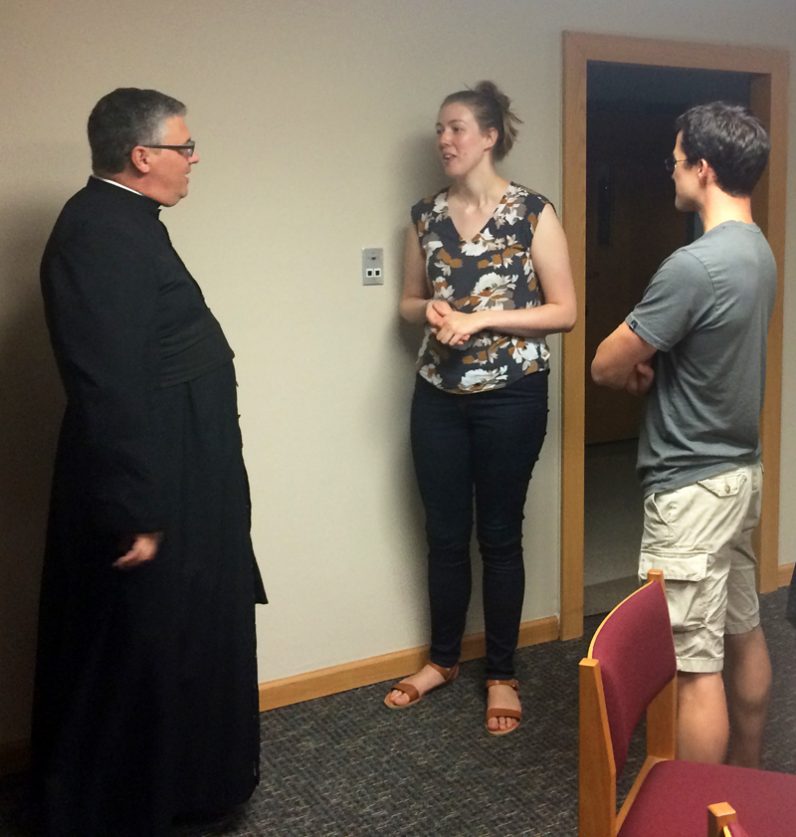 By Dan McCarty • Posted on September 18, 2019
The basics of prayer and a major obstacle to it was the topic of a conference at a recent Chester County Catholic Young Adult (CYACC) meeting.
Father Carl Gismondi, FSSP, pastor of St. Mary Quasi Parish in Conshohocken, spoke to the group of about 20 people, mostly in their 20s and 30s, about "The Strength and Power of Prayer" on August 28 at SS. Peter and Paul Parish Center in West Chester.
The priest reviewed the foundations of prayer and their historical development in the church. He also spoke about the different forms of prayer, how prayer is different from "talking" to God and why prayer should be such an important part in the daily life of Catholics.
It always takes some time to plan for these events, usually around a month or two.
CYACC carefully schedules the appropriate speakers for its meetings, which are usually held every one or two months. CYACC members Kristina Stark and Levi Keane had heard Father Gismondi deliver poignant and meaningful sermons at St. Mary's, which celebrates Mass in extraordinary Latin form at Conshohocken Church, so it seemed appropriate to them to invite him to speak. on prayer.
Stark, a member of St. Agnes Parish in West Chester, said she thought the priest "could really connect with this group."
Father Gismondi said he was honored to come and spend time with this group of young adults.
"We have young people who want to deepen their faith," he said. "It's really good. Prayer is difficult.
Father Gismondi said that in his experience, people who learn to pray for the first time find it very similar to learning a foreign language. It is harder for some than for others. For some people, it takes years of learning before they become comfortable with a new language. It takes effort.
"God is always there to listen," said Father Gismondi.
A simple definition of prayer is that it is the elevation of heart and mind to God. The person praying spends time talking to God, who wants us to share friendship with him. Just as you can't have relationships with friends without talking to them, so too when connecting with God.
Father Gismondi spoke of three types of prayer: vocal prayer, meditation and recollection. Vocal prayer, the basis of the prayer life, is written for us. Even when we pray in silence, it remains vocal. Through meditation, we use our thoughts, memory, and imagination to lift our hearts and minds to God. Recollection is different from meditation in that we focus on Christ living in our hearts and remembering that he is in us at all times.
"The three types of prayer are open to all of us," said Father Gismondi.
The last part of his talk focused on distractions, which can frequently arise in a person's imagination and memory during prayer. If it is not easy to control the imagination, it is necessary to put it in the right place. We should train it to become a lesser function of our mind, Father Gismondi suggested.
"We're designed to be able to do things on autopilot," he said.
God favors our prayer intentions as long as we really intend to pray. While it is best if we can overcome distractions, God still respects our desire to pray if it is a sincere intention on our part. Father Gismondi advised putting down his cell phone or taking a break from social media for regular periods to spend quality time with God, even briefly.
"We need to rest from the material world," the priest said. "We think too much about the things of the world that we need to get rid of, even for a few minutes."
He concluded his speech by recalling the basics that prayer is essentially talking with God.
In the short question and answer session that followed, Maggie Watkins, a parishioner of St. Norbert in Paoli, asked for prayer and reading recommendations for people of different levels. Father Gismondi suggested reading books written by saints and those who are considered saints. Among them are "Conversation with Christ" by Peter T. Rohrbach, "The Path to Perfection" by Saint Teresa of Avila and "Introduction to the Devout Life" by Saint Francis de Sales. He recommended 10 meditations that people could use to enter into prayer.
Laura Lara of St. Agnes Parish was curious about how beginners can make good use of the scriptures. Father Gismondi's first thought, he said, was to make an act of contrition before reading the New Testament to familiarize himself with the gospels.
Several people who came out for the evening had heard Father Gismondi speak before, such as Meredith Wilson, a member of St. Mary's in Conshohocken.
"I thought it was really easy to remember how it was all said," Wilson said. "I still feel really built."
CYACC's next event is September 18 when the group brings together members and guests, ages 20-35, for an evening of games and camaraderie at Goshen Park East in Chester County.
Learn more about Catholic young adults in Chester County at CYACC.org. Discover four other local groups for young Catholic adults as well as Anthem, the youth and young adults ministry of the Archdiocese of Philadelphia.