The Standard Media Group launched its converged newsroom on Monday, November 29.
During the unveiling of the new look dubbed the "Project Eagle", the news house recognized some of the journalists who started their careers at KTN, after its launch on February 1, 1990.
In a short clip released during the event, KTN highlighted a number of former journalists, including two serving Cabinet Secretaries (CSs) and senior Citizen TV executives, who served as presenters or reporters for the station.
Raphael Tuju
Jubilee Party general secretary and cabinet secretary without portfolio, Raphael Tuju, was among KTN's first press presenters. Video released during the high-profile event showed young Tuju presenting news.
With a master's degree in Mass Communication from the University of Leicester, UK, Tuju has worked as a presenter, columnist and producer. He founded Ace Communications in 2001, which was the originator of several documentaries, radio and television commercials for international agencies, public sector institutions and private sector organizations.
Tuju worked as a senior consultant in the design and implementation of several public communication programs for a diverse clientele which included the World Health Organization (WHO) in Geneva, the World Bank, the Development Department. UK Government International (DFID), United States Agency for International Development (USAID) and United Nations Development Program (UNDP).
He entered politics and was elected deputy for the constituency of Rarieda. He served as Minister of Information and Tourism in the government of retired President Mwai Kibaki. Tuju quit his Action Party and joined Jubilee, where he became the SG.
A collage of CS Raphael Tuju as an anchor at KTN (L) and him at the Jubilee Party headquarters
Kenyans.co.ke
Farida karoney
Lands Cabinet Secretary Farida Karoney is also part of KTN's broadcast trip. In the clip, she is seen in the field report. Karoney joined KTN as a freelance writer, became a journalist, and became editor-in-chief.
She joined NTV in 2001 before returning to KTN in September 2004 for a two-year stay. Karoney has also worked for international media houses Radio France Internationale and Al Jazeera.
Karoney joined Standard in 2008 before joining Royal Media Services in 2009. Here she served as Group Editor-in-Chief and at the time she was appointed Lands Boss she was COO.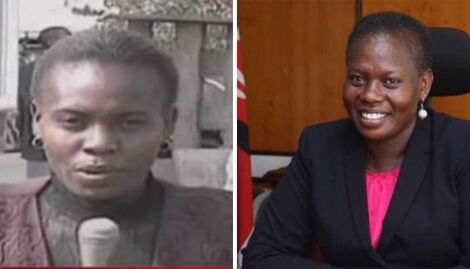 A collage of Farida Karoney as KTN reporter (l) and her as Lands CS in her office
Kenyans.co.ke
Joe ageyo
Citizen TVs Editorial Director Joe Ageyo joined KTN in 2000 as a news reporter specializing in environmental stories. He is known for pioneering the very first environmental feature, EcoJournal.
He joined NTV in 2005 where he spent seven years, becoming the head of news production. Ageyo has become one of the country's most sought-after moderators, overseeing the presidential debates of 2013 and 2017. He left KTN News in March 2018, as editor.
Linus Kaikai
Linus Kaikai started his career with the Kenya Television Network (KTN) in 1999. He then went to work for the South Africa Broadcasting Corporation for eight years. Linus rose through the ranks to become a correspondent's office manager.
The MA in International Journalism returned to KTN in 2007 as Editor-in-Chief in charge of product development and quality. He moved to NTV, where he served as Managing Director before joining Citizen TV.
Famous for his Kaikai's Kicker, Linus is now Citizen TV Director of Strategy and Innovation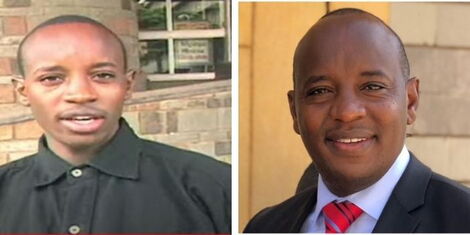 A collage of Linus Kaikai as a KTN presenter in the late 90s (L) and a more recent photo
Kenyans.co.ke
Other "alumni" of KTN
Other notable names in the industry include seasoned journalist John Sibi-Okumu, Catherine Kasavuli, Njoroge Mwaura, Sammy Lui, and Kathleen Openda.
KTN editor-in-chief Sharon Momanyi acknowledged the presence of several station alumni, including Joy Doreen Biira, and revealed her intention to network for them.
"We continue to value all of our former employees and in fact we will be forming the Standard Group Alumus network in a moment," she said.
In a brief interview, Biira hinted at a possible return to the media house while responding to a question asked by Momanyi.
"Who knows, maybe we'll see you more often and you might see us more often too," she teased.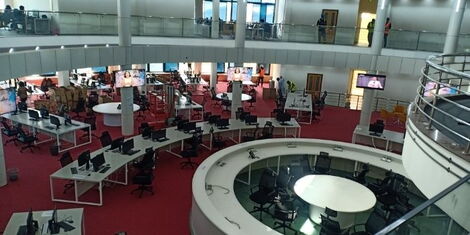 The Standard Group's newly converged press room, pictured on November 28.
standard group