People with disabilities are 'gifts' to be cherished, says new care facility manager – Catholic Philly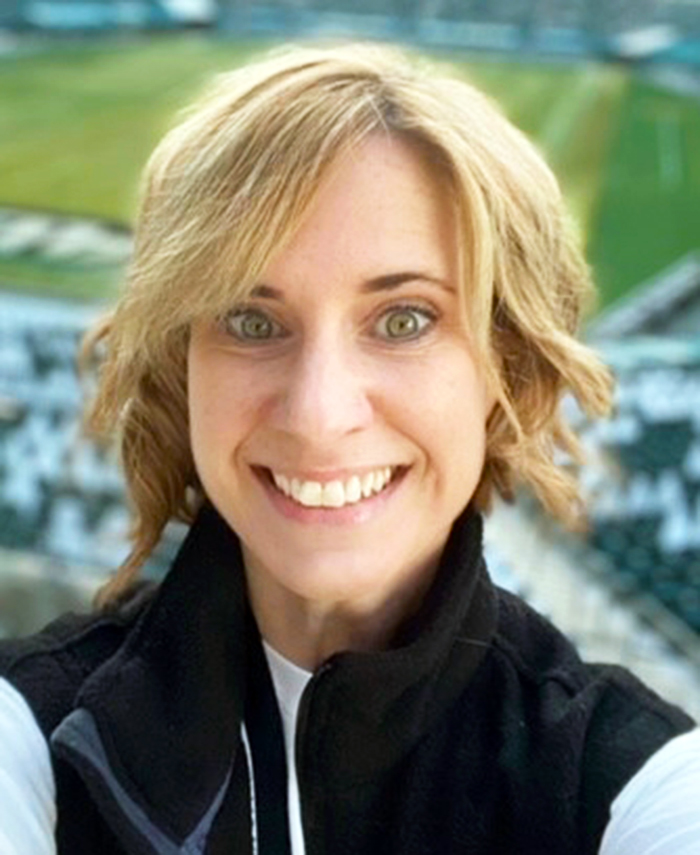 By Gina Christian • Posted on October 12, 2021
People with disabilities are "gifts" to be cherished, said the new director of an archdiocesan care facility.
"They have a lot to teach us about trust, love and friendship – and we have a lot to learn," said Angela Babcock, the new administrator of Divine Providence Village (DPV).
Managed by the Archdiocesan Catholic Social Services (CSS), the Springfield-based DPV – a recipient of the Catholic Charities Annual Appeal – provides health and rehabilitation services to adult women with intellectual and developmental disabilities (IDD).
The facility is part of CSS's Wider Communities of Don Guanella and Divine Providence (DGDP), which offers a continuum of support to IDDs through community and campus lifestyles, sharing life through family life, home help, respite care and day programs. .
When Babcock steps into her new role on October 15, she will settle deeper into a place she has long called a second home.
For the past six years, Babcock has been Director of Nursing at DPV, managing a team of 40 employees. At the onset of the COVID pandemic, she regularly spent 75-hour weeks at her post, educating herself and staff about the rapidly progressing disease, all the while soothing raw nerves and allaying residents' concerns.
"We got together and did what we had to do," said Babcock, a member of St. Francis of Assisi Ward in Springfield. "We couldn't stop waiting for the perfect plan. We needed to create best practices while serving those who needed them. "
One of those best practices was to ensure staff and residents had access to COVID vaccines. With a much higher rate of multiple chronic diseases, the IDD population has been particularly vulnerable to the coronavirus, and Babcock has devoted its energies to securing the supply of Moderna and Pfizer doses.
With outgoing DPV administrator Jean Calvarese-Donovan, Babcock made the facility become a vaccination provider and extended its reach last March with an autistic clinic at Lincoln Financial Field, with quiet rooms. , visual schedules and story-based interventions. to welcome beneficiaries and their caregivers.
The initiative, made possible through a partnership with the Eagles Autism Foundation, saw the administration of 1,000 full doses. Three members of the Philadelphia City Council and a list of advocates for the IDD community cited the clinic in a letter to Mayor Jim Kenney as a role model, while the Philadelphia Phillies named Babcock a frontline hero.
By May, Babcock and his team had fully immunized some 7,000 members of the region's IDD community, while helping to make COVID injections available to people who are deaf and hard of hearing.
But that kind of awareness is just the start, said Babcock, who is considering DPV expanding its reach of the IDD population.
"I have noted all the contacts I have made in these immunization clinics," she said, adding that by "going more into the community" the DPV can lead the way in "serving the people medically fragile in various settings, not just the easiest ones.
Ultimately, Babcock would like to create "the first IDD qualified rehabilitation center" at DPV, a center that could accommodate "people from the local community as well as residents".
The demand for such support is on the rise as the life expectancy of the IDD population increases. By 2030, the number of adults with IDD aged 60 and over is expected to reach approximately 1.2 million.
"It really is the first generation IDD to live this long," Babcock said, noting that a DPV resident is now 92 years old.
Under COVID lockdowns, "we have proven that we can rehabilitate people here," she said. "We have the talent, the commitment and the core values ​​here to say, 'Hey, world, this is the way it is. ""
Babcock is also committed to deepening DPV's holistic approach to caring for its residents.
"We focus on a lot of preventative things, like strength conditioning and exercise," she said.
From a programming perspective, Babcock encourages his team to "think outside the box", drawing on input from those at the center of DPV: the residents themselves.
"We're looking for goals for them that go beyond what people might generally think is good," she said. "Our residents tell us where they want to travel, what music they like. They tell us a lot about themselves along the way, and they have a lot more talent than most realize. "
As a result, Babcock said she finds herself inspired everyday, even on the most difficult days.
"Whenever it gets difficult, I remember that God knew us before he formed us in the womb," she said. "So we must be chosen to do great things."