A bust of Marsha P. Johnson is mounted near the Stonewall Inn in tribute to the transgender activist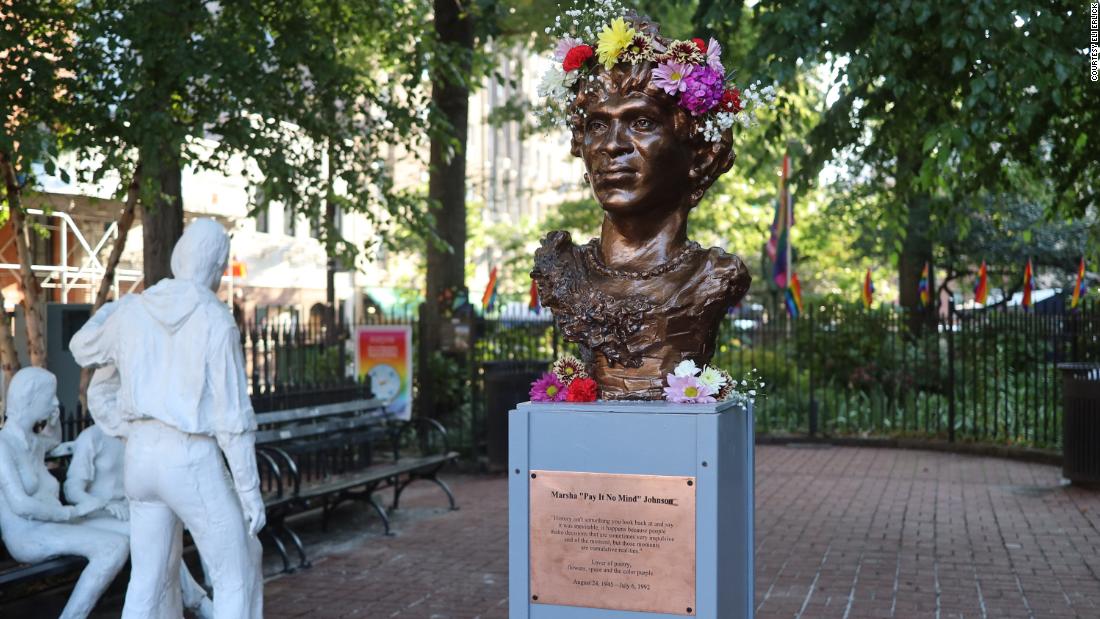 But this statue of Johnson, a black transgender woman who has dedicated much of her life to the LGBTQ rights movement, was not created with the city's participation or endorsement. A group of enterprising artists and activists got tired of waiting for the monument and built it themselves.
"We cannot stand idly by and wait for the city to build statues for us," Erlick said in a statement. "We need to create representation by and for our own communities."
The bust was produced without the participation of the city
Johnson and Rivera were due to receive memorials near the Stonewall Inn, the city announced in 2019, but progress has stalled since. Erlick, who coordinated the creation and installation of the sculpture, said the group "decided to create the work ourselves" because NYC Parks, the city's parks and recreation department, often puts on years to approve a single statue.
"Statues of women, people of color and trans people are often denied behind closed doors," Erlick said in an email to CNN. "The trans community has taken matters into their own hands."
The New York Department of Parks told CNN it does not have the final say on how long the bust will remain standing, given the area's inclusion in a national monument. The National Park Service did not immediately respond to a request for comment.
Pallotta created the bust with help from Tourmaline, an activist and filmmaker who archived hundreds of photos of Johnson and helped Pallotta get a feel for Johnson's functionality from all angles, Pallotta told CNN.
The portrait, Pallotta said, is "almost an idealized representation" of her features, designed to portray her "as an elevated being."
Johnson's bust is just one of a few statues of women in city parks, Erlick said, and the first to honor a transgender woman.
Johnson has championed LGBTQ rights for most of his life
Although Johnson's activism was focused in New York City, she has demonstrated for the rights of American gays and trans people across the country. She was instrumental in the 1969 uprising at the Stonewall Inn, located directly across from Christopher Park, in which police raided the bar and clashed violently with gay and transgender customers.
"We were just saying 'no more police brutality' and 'we were fed up with the police harassment in the village and other places," Johnson said in an interview in 1989.
She and Rivera co-created the STAR group, which at the time stood for Street Travestite Action Revolutionaries, to house LGBTQ youth. Johnson has also been homeless for periods throughout his life, often participating in survival sex work, according to the Office of LGBTQ + Affairs in Union County, New Jersey, where Johnson was born.
She was also a strong activist for AIDS survivors, organizing with ACT UP New York until her death in 1992 when her body was found in the Hudson River.
Johnson's influence continues today through organizations like the Marsha P. Johnson Institute, created by transgender lawyer Elle Moxley, which serves black transgender people.
Bust is the latest in a long line of queer art with a statement
The act of creating the bust and installing it without first having received official permission "fits into a much-vaunted tradition of queer artistic creation," said Jonathan Katz, associate professor of practice in history of the art at the University of Pennsylvania.
Pallota and Erlick follow in the footsteps of artists like David Wojnarowicz, who created murals on an abandoned Hudson River pier, and Keith Haring, who drew in chalk at subway stations, said Katz, a great queer art history expert.
"The guerrilla movement has long been part of the DNA of the queer art movement," he said.
But Johnson's bust is indicative of a "assertive new kind of political movement," said Katz, a movement that takes matters into its own hands when the city has good intentions but does not act. And the way it was erected is a fitting tribute to Johnson as well, he said:
The placement of the bust "is also a comment on the existing gay liberation monument," organizers said in a statement, referring to four statues of two same-sex couples, cast in bronze and painted in pristine white, which have been installed in the park.
George Segal was commissioned to create the monument in 1979. Segal, who had previously created memorials for the Holocaust and the Kent State Massacre, initially believed that a gay artist should create the work of 'art, but decided that "living in the art world" had made him sympathetic to the gay friends in his life, per NYU. As it was Segal's style, the statues were drenched in white paint.
Critics of the article say it "whitewashes" the Stonewall riots and the queer liberation movement. Transgender women of color like Johnson, Rivera, Miss Major Griffin-Gracy and many others have been instrumental in organizing LGBTQ rights and serving LGBTQ people when mainstream organizations are not but are not represented by the existing monument.
"This bust in this location re-articulates a message of inclusion," Katz said.
The bust is "designed to be temporary"
A plaque on Johnson's bust remembers her as a lover of poetry, flowers, space and the color purple. It also includes a quote from Johnson on the nature of activism and community change.
"History is not something you look back and say it was inevitable," the plaque reads. "It happens because people make decisions that are sometimes very impulsive and timing, but those moments are cumulative realities."
Erlick and Pallotta told CNN on Friday that they expected the monument to Johnson to stay a bit longer, but Pallotta said the work was "designed only to be temporary." They want to see the city follow through on their initial plans to commemorate Johnson and Rivera, they said.
"My ultimate goal is for the city to relaunch the plan to donate monuments to Marsha and Sylvia, and for current black transgender women in New York to be involved in the process, including the selection of artists and the design of a monument." , Pallotta said.
For now, however, Johnson's floral bust will remain in Christopher Park, resembling in every way the royal figure those close to her considered.
"Everyone who knew Marsha, and I briefly loved so many others, knew that inclusion, invitation, motherly warmth – these were her defining qualities," Katz said. "The bust instantiates this."
CNN's Christina Maxouris contributed to this report.